Coming together for your region's economic future
SSTI's 2023 Annual Conference
Atlanta | Sept. 6-8, 2023
---
SSTI's annual conference is the convening for practitioners and policymakers working to create a better future through science, technology innovation and entrepreneurship.
Join your peers from across the country in Atlanta this September 6-8 to build your network and experience an agenda that features:
Workshops designed to help you bolster your strategies and communications,
Roundtables where you can discuss effective policies and programs with peer practitioners,
Plenary sessions providing updates on significant trends and new ideas for the field, and
A financing forum that offers a chance to learn about opportunities to fund your work and your client entrepreneurs and innovators.
Best of all, we are offering this year's conference at the incredible rate of just $390. Register today. Registration is full. We are excited to see so many of you in Atlanta!
If you work in tech-based economic development, you and your team can't afford not to be in Atlanta.
---

---
Agenda
SSTI's Annual Conference is September 6-8, 2023 and will cover a wide array of topics, including:
Regional innovation strategies
University-industry partnerships
Talent attraction and development
Capital access strategies
Inclusion and equity in tech
Federal innovation policy
Measuring and communicating impact
Venture development organizations
Agenda at-a-glance
September 6
Content options include a full day introduction to tech-based economic development, workshops on organization management, and roundtables for attendees to meet with, and learn from, peers working across the country.
September 7
Plenary sessions on big thinkers and innovation trends in the morning. The afternoon will include a new financing forum for attendees to learn about a range programs and include additional roundtables to meet with your peers.
September 8
The final day of the conference will feature a communications workshop and additional roundtables for attendees to meet with their peers.
---
---
Registration
The registration rate for SSTI's 2023 Annual Conference is just $390.
This rate reflects just a portion of our hard costs in putting on the event, but we are able to offer this price thanks to our partners.
Registration is full. We are excited to see so many of you in Atlanta!
Additional rates
As a result of the low rate we are offering this year, no discounts are available.
Current U.S. Economic Development Administration grantees with financial barriers may be able to qualify for a travel stipend to attend the conference. Contact tbedcop@ssti.org for information.
---
Venue
SSTI's 2023 Annual Conference takes place at the Hilton Atlanta.
The room rate is $169 plus tax.
Reservations can be made online through passkey or over the phone by telling the agent you are booking for the "SSTI Annual Meeting."
Hilton Atlanta
255 Courtland Street NE
Atlanta, Georgia, 30303
404-659-2000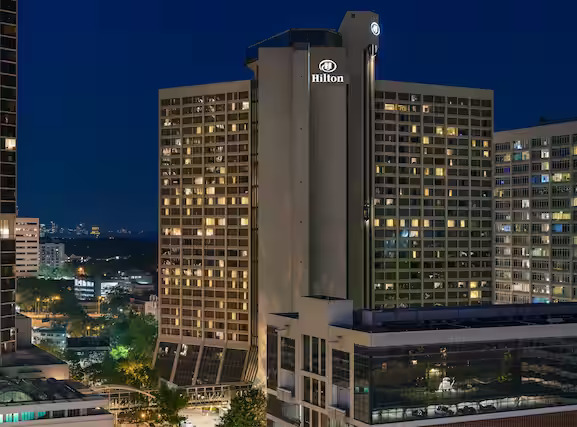 A note about our room block. Please understand that the low registration rate of $390 means that SSTI must fill our room block with the Hilton Atlanta. We greatly appreciate attendees' willingness to stay at the conference hotel in lieu of another location.
---
Atlanta
Recognized as a top travel destination by National Geographic and Lonely Planet, Atlanta is a city with fantastic food, art, and recreation.
Recommendations from the city's list of 50 fun things to do include:
The Beltline
Atlanta Botanical Garden
Martin Luther King Jr. National Historical Park
CDC Museum
Chattahoochee Nature Center
Georgia Aquarium
Jimmy Carter Presidential Library & Museum
---